Read Time:
4 Minute, 38 Second
To think about everything important, you should go through the development process in orderly steps. The following steps guide you through the development phase to the finished app. Let's have a look at the mobile app design process in detail below and don't forget to share it with others.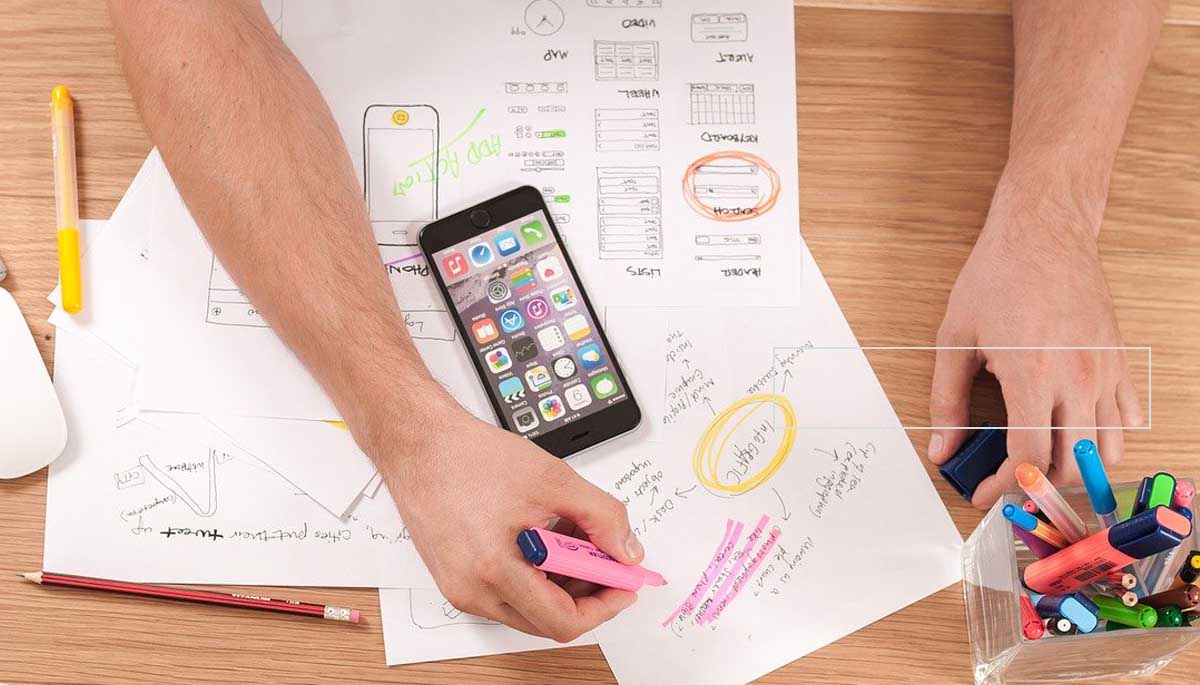 A Guide To A Mobile App Design Process
1. STEP: THE PLANNING
As already indicated, your idea is at the beginning. If you have decided that you want an app for your company, then you should take the time to understand what the app should be able to do. For this purpose, you can use a list or a mind map that you complete over several days. Here you can be very creative and think in all possible directions.
Above all, you must always keep your target group in mind and their needs, as they are the ones who will use your app later. In the end, there will be a lot of things here that your app should be able to do. Because you sometimes have the proverbial "board in front of your head", there are other important ways to collect ideas:
If you have employees, you should not be too afraid to ask them for their opinion. Sometimes you can get information like this or take over ideas that you would not have come up with, because it might even have been too obvious.
You can also talk to customers and ask them what the reasons would be for them to download your app. In such a dialogue, you will quickly find that there are broad matches and with these insights it will also be easier for you to prioritize the features you need.
At this point, you also have to consider which platform is the right one. Is your target group iOS or Android? Ideally, you have a working app for both operating systems right at startup so that you do not exclude any part of your customers. At the end of this process, you have an idea or vision. Now it's time to see an expert and discuss your project with him.
2. STEP: COOPERATION WITH THE EXPERT
We now assume that you do not have the knowledge to implement the app yourself. Therefore, you should contact a mobile app design company that masters its craft. As a rule, you will work closely with this, which is why you should compare different providers here (references, prices, customer proximity, etc.). Whether app agency or freelancer, there are already many experts in app development who specialize specifically in the development of apps for customers.
If you have found a provider with whom you feel comfortable, it is time to present your ideas. You should not leave your industry unmentioned, also briefly address your target group and possibly already have certain special features in design clear. The expert will be able to quickly tell you which ideas are realistic and what may be difficult to implement. Together you will develop a plan that meets your wishes for the app.
3. STEP: CONTROL APP DEVELOPMENT
Now it's time to create a basic framework. This basic framework is also called wireframe. Once it has been created, you can slowly start developing a prototype. A prototype is the preliminary version of your final product. Several of them are often created, whereby you can always choose the one who suits you the most in different development phases. This prevents time from being invested in a version of your app that you ultimately don't like at all.
Once the whole thing gets going, your task is to monitor development and ensure that the app develops where you want it. You should express honest criticism here, as the programmer who provides ecommerce application development services has an idea in which direction it should go, but can never know your entire idea.
Depending on requirements, scope and specifications, this process can take from a few days to several months. Nevertheless, you should make sure that you set a target period at the beginning of the cooperation so that the project does not spread to the bottomless. After all, you have to run a company in parallel and cover running costs.
4. STEP: TAKEOVER OF THE FINISHED APP
When the app is ready for the app to be developed, then you can apply it. This means that the programmer assigns the rights to it and helps you (if agreed) to use the app in the Apple App Store or To offer Google Playstore. In fact, this also costs money in the form of an annual fee, which is only in the low three-digit range. In the best case, you should agree that the programmer introduces you to the administration and operation of the app and shows you possible interfaces – such as the management of the digital calendar from the example above.
5. STEP: BRING THE APP TO THE CUSTOMER
The app is of little use to you if no one uses it. Therefore, you should draw your customers' attention to the fact that you now have an app that benefits them to use. On the one hand, you can do this by having posters made that you hang out in your store. On the other hand, you can also place online advertising and reward the loading of the app with a "goodie" and thus create an additional incentive. However, the "goodie" should suit your industry and can be something like a voucher or a discount coupon. There are no limits to you again.