Read Time:
7 Minute, 28 Second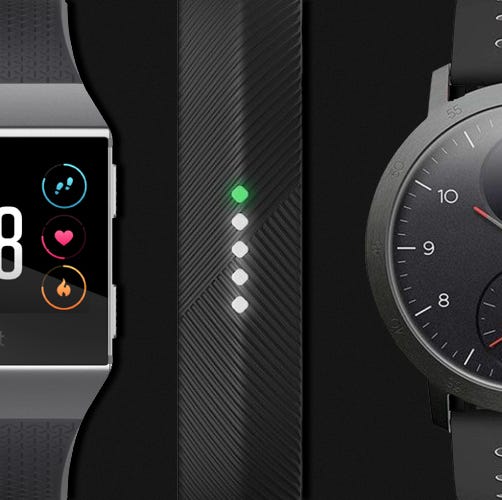 Fitbit has become a proprietary eponym, like Kleenex or Xerox. While they may have started out as relatively simple activity trackers, the wearable devices have evolved considerably over the past decade or so—and with them the fitness tracker and smartwatch industry as a whole. You can still find plenty of basic fitness watches that are intended to be worn all day and mostly forgotten about until you want to check your stats and activity. But you can also get much more full-featured smartwatches or GPS-enabled fitness trackers that can guide and monitor you through a range of sports and activities. Many of these wearables can also now even stand-in for a smartphone, and do things like receive texts, play music, or make payments.

That means choosing one to put on your wrist is more difficult decision than ever. We've curated some of the best current fitness-minded wearable devices here to aid you in your decision-making, whether you're just looking for an everyday fitness tracker or something more advanced for training and exercise.

How We Chose These Fitness Trackers
To select these devices, we relied on our own experience and previous Popular Mechanics coverage and testing of fitness trackers and smartwatches. We also surveyed the market and took customer reviews as well as professional reviews from trusted publications like Wired, Ars Technica, and PC Magazine, into account.
Best Overall: Fitbit Ionic
$248.00
This serious contender in Fitbit's smartwatch repertoire packs a serious punch. It takes everything the Versa (below) has and adds a few notable features, most of all, onboard GPS. That means that pace, distance traveled, and speed can all be on your wrist, even when your phone is at home.  

For some this might not be a big deal, but if you are one who likes cycling, hiking, or running without a phone bouncing around, that could be a big difference. 

The Ionic also has a durable Gorilla Glass 3 screen but packs it in a sleeker, more intense case. You can also get the Ionic Adidas edition, which will give you training regiments and coaching straight from the brains of Adidas. 

If you're looking for the latest and greatest in tech, though, be warned, neither the Ionic or the Versa is capable of making a phone call. 
Best Budget Smartwatch: Fitbit Versa Lite
Fitbit's original Versa is still a solid option if you're looking for a full-featured and affordable alternative to the likes of the Apple Watch, but the company's newer Versa Lite model will save you even more money if you don't need quite all those tricks.

You still get plenty of fitness capabilities, including heart rate and sleep tracking, but lose out on some more advanced features like on-screen workouts and logging of swim laps and elevation (not to mention on-board music storage). The features the watch retains, combined with its lower price, makes it a favorite of Wired, which named the Versa Lite its top all-around fitness tracker.
Best Design: Fitbit Charge 3
The first noticeable difference with Charge 3 is its width. Whereas the other trackers thus far have had thin wristbands, the Charge 3 approaches the size of a real watch. With that comes the larger screen where you can easily see all your information. The Charge 3 has all of the same fitness-tracking features as the Alta HR with a few great additions, like floors climbed, 15 modes for tracking different activities (including swimming), as well as piggybacking off your phone's GPS to display your pace and distance. 

The Charge 3 also adds a number of coaching features, including guided breathing exercises for some midday relaxation, and female health tracking to log symptoms and predict ovulation and fertility windows. The charge also adds a few smartwatch features like Fitbit pay for easy transactions from the wrist, and notifications with real information in them, like how far away your Uber is. 

Plus, it comes with five quick replies to respond to texts from your wrist, but you can change and personalize them to reflect what you might actually say.
Best Everyday Tracker: Fitbit Inspire HR
Fitbit's Inspire and Inspire HR models (the "HR" indicating that version can measure your heart rate) sit right in the middle of the company's product family, ideal choices for anyone who wants to step up from the most basic trackers while still keeping things simple and straightforward. The Inspire replaces Fitbit's previous Alta and Alta HR models and offers a larger display and more capable touchscreen (you could only tap on Alta's interface; this one works with swiping, too). There are also new features like multiple watch faces, which both Runner's World and Ars Technica found to be welcome upgrades. Those do come at some expense to battery life, however.

Like many basic trackers, it doesn't have built-in GPS, but it can sync with your smartphone via Bluetooth to track your routes and check your pace. And as with the Alta, you can swap out different bands to suit your taste.
Most Hidden: Fitbit Flex 2
This is the perfect tracker if you are trying to keep cost down, or don't want another glowing screen in your life. It doesn't have a watch face, but rather five LEDs that display your progress throughout the day. If you want more specific data, open the app to see your exact numbers for steps, distance traveled, active hours, stationary time, and active calories. 
This is a great option if you already wear a wristwatch but want to add fitness tracking. The band is the slimmest Fitbit makes, and you can remove the core of the fitness tracker and put it in other cases like bangles and pendants in a variety of styles and colors. 
The Flex 2 is also waterproof, so it can track your swimming and it will recognize other activities like running and begin automatically tracking. It also has a slew of non-fitness features like sleep tracking and vibrating alarms for things like texts or calls.
Best for Kids: Fitbit Ace
Get your kids in on the fun of tracking fitness and encourage them to get the 60 minutes of activity that the CDC (and Michelle Obama) recommend. Reminders throughout the day tell kids to get up and move (so maybe they won't disappear for hours into Fortnite, maybe). 
Multiday battery life means your kiddo can wear it night and day, which also allows sleep tracking to create healthier sleep habits, an essential part of development. But it's also fun; celebration messages come up when you hit your daily goal, it awards badges for big milestones, and it can interact with other Aces to compete for virtual trophies and send messages of encouragement. 
All the information also goes to a family version of the Fitbit app where the child can check in on trophies and the parents can check in on sleep and activity levels. Showerproof, wrist-vibrating alarms, multiple colors.
Best for Tunes: Garmin Vívoactive 3 Music
Where Fitbit has established itself as the leading name in fitness trackers, Garmin has long stood out when it comes to running watches. These days, there's a lot more overlap in the two companies' products, and something like the Vivoactive 3 Music will suit a range of users, whether they're serious about running or just looking for an all-purpose smartwatch that'll let you check messages or make contactless payments.
It garnered an Editors' Choice pick from PC Magazine, which liked the watch's ability to store up to 500 songs (a non-Music version is also available if that's not your priority) and its full range of fitness capabilities, including measuring stairs climbed and tracking your heart rate.
Most Discreet: Withings Steel HR Sport
Fitness trackers and smartwatches have shrunk in size from their earlier days, but most still undeniably look like a piece of fitness gear. If you'd rather wear something that appears more like a regular watch, consider the Withings Steel HR Sport. It does away with a large touchscreen in favor of an analog watch face augmented with a small, non-touchscreen OLED that displays only key details like steps, heart rate, and distance.
That's an undeniable trade-off, but it does also have the welcome side effect of helping to extend the watch's battery life to 25 days. And if you're willing to do away with a screen altogether and only do the most basic fitness tracking, Withings' inexpensive Move will last a full 18 months before you need to recharge it.