Read Time:
3 Minute, 30 Second
Being a runner you might be curious to know the name of first shoe company with microchip introduced in their sneaker? Well finally, I have digged a lot and find out which company did it? So if you would like to know the just bear with us and you will get your answer in a while. So let's get started…!
Well that question recently came in trend because during a side quest Courting Calloway in NBA 2K23 it has been asked and it should be answered by sneakerheads Yolanada and Sabine in order to complete the side quest Courting Calloway in NBA 2K23.
It is imperative that you provide accurate responses to each of these inquiries regarding footwear in order to proceed with the quest. It is challenging to provide satisfactory responses to many of the questions asked. For your convenience, the following is a compilation of the answers to the NBA 2K23 Yolanada and Sabina questions.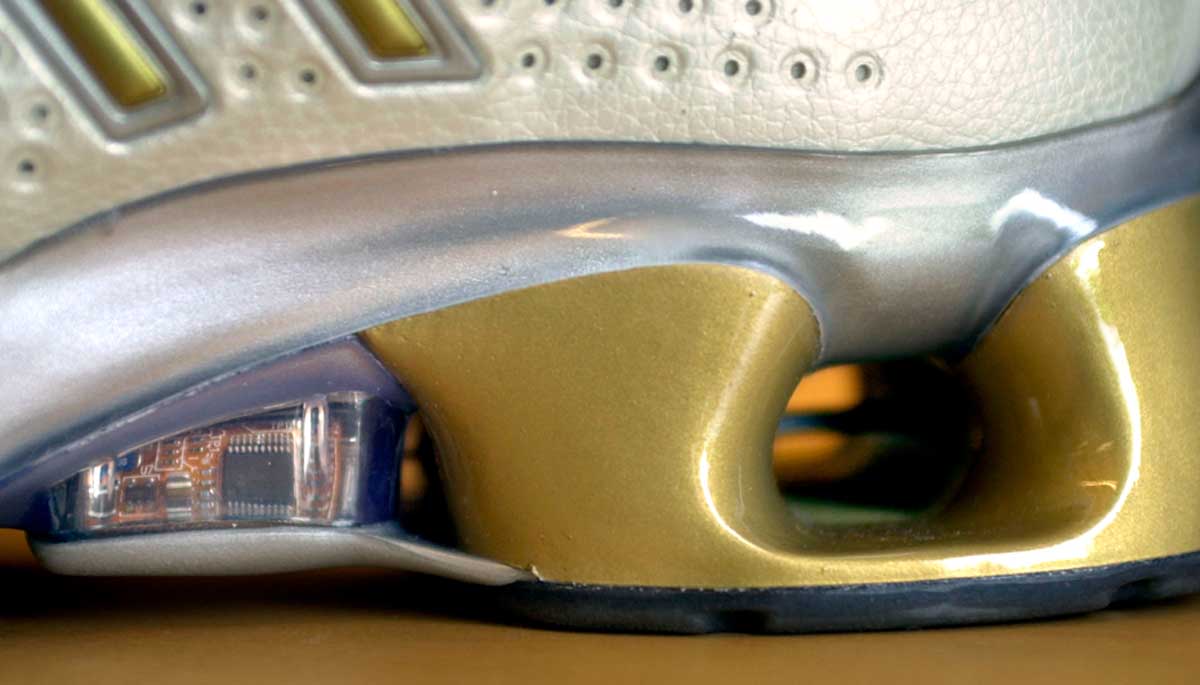 Which was the first shoe company that introduced their sneakers with microchip?
Many people got stunned when they heard the answer regarding which shoe company introduced the microchip in their sneakers for the first time. Well you might be wrong but it right answer is Adidas!
Yes Adidas was the first shoe company with microchip in their sneakers and they launched in the market as the Intelligent Running Shoe, which was praised by many basketball player. Below read the full report:
The most technologically advanced shoe ever created was just unveiled by Adidas. The shoe, which has been given the number "1," offers "intelligent cushioning" by automatically and continually adapting itself to the wearer's foot. It accomplishes this goal by utilising a sensor and a magnet in order to determine the amount of padding present.
After that, a small computer helps it determine whether the current degree of cushioning is too soft or too firm. It then uses a motor-driven cable system to make adjustments in order to maintain the ideal level of cushioning during the run.
The adidas shoe is one of a number of items of intelligent clothing that are scheduled to hit the market in 2004. Other examples of the convergence process include the solar-powered jacket from SCOTTeVEST, O'Neill's MP3 snowboarding jacket, and Philips' work developing clothing that monitors the health of its wearer.
"1" will be the first of many advances in footwear made possible by embedded processors, making it possible for Adidas to legitimately claim a historic first with their product.
"This one product is going to revolutionise the entire sporting goods sector. It is a genuine first and solidifies adidas' position as the undisputed industry leader in terms of innovation, "Erich Stamminger, a member of the Executive Board who is responsible for North America and Global Marketing, made this statement. "This is the product that demonstrates to us that 'Impossible is Nothing,' even when it comes to the development of new items."
The sneaker was developed in-house over the course of three years in a highly confidential project that was kept hidden from all but a select few employees, even within adidas-Salomon. The adidas Innovation team in Portland and Herzogenaurach are entirely responsible for the development of this product.
In December of 2004, an exclusive distribution of shoes will be made available at some merchants, as well as in adidas Sport Performance stores. The suggested retail price is approximately $250 (US Dollars) or 250 (Euros).
Final Words
In 2003, Adidas debuted the Adidas 1, a model of running shoe that had an integrated microchip. What exactly did the microchip accomplish? The computer chip in the shoe analyses the terrain that you are walking on and instructs the foam cushioning to either be firm or flexible, depending on what it determines to be the most appropriate response.
Now picture that technology incorporated into a pair of basketball shoes. There has been no announcement made regarding the name of the upcoming Adidas Basketball shoe, but it is anticipated that a limited quantity of the shoes will be made available during the month of May. After that, by the month of August, additional pairs will be made available at a retail price ranging from $250 and above.