Read Time:
4 Minute, 39 Second
We have always believed that India would be a tremendous market for hyperloop, and in February this vision proved to be a reality. The Indian State of Maharashtra announced their intent to build a hyperloop route between Mumbai and Pune, beginning with an operational demonstration track. We signed this landmark Framework Agreement in the presence of the Indian Prime Minister Modi, the Hon'ble Chief Minister of Maharashtra Shri. Devendra Fadnavis, and our Chairman Sir Richard Branson.
THE MUMBAI-PUNE PROJECT MOVES FORWARD
Working with our public and private partners, Virgin Hyperloop One is on track to complete the feasibility study for the Phase I demonstration track of the Mumbai-Pune project. The full project is proposing to link Central Pune, the Navi Mumbai International Airport and Central Mumbai – with a potential commute time of 25 minutes. Based on our ongoing analysis, the Mumbai-Pune route is proving to be the strongest economic case that we have seen to-date.
Building upon this progress, we recently welcomed the Chief Minister of Maharashtra Fadnavis, and representatives from the State Government including key members of the Chief Minister's Office and Pune Metropolitan Region Development Authority (PMRDA) chief Kiran Gitte, project lead on the Mumbai-Pune hyperloop project, at our DevLoop test site to inspect our technology. The Chief Minister and other esteemed guests were able to witness a full-scale hyperloop in action for a live demonstration test. It was an honor to host the Chief Minister, demonstrating a vote of confidence as we advance into the second half of our ongoing feasibility study and progress in accordance with the Framework Agreement signed in February. Speaking with our Chairman Richard Branson, the Chief Minister confirmed, "This was a very fruitful discussion and we should be able to start moving on this project very fast."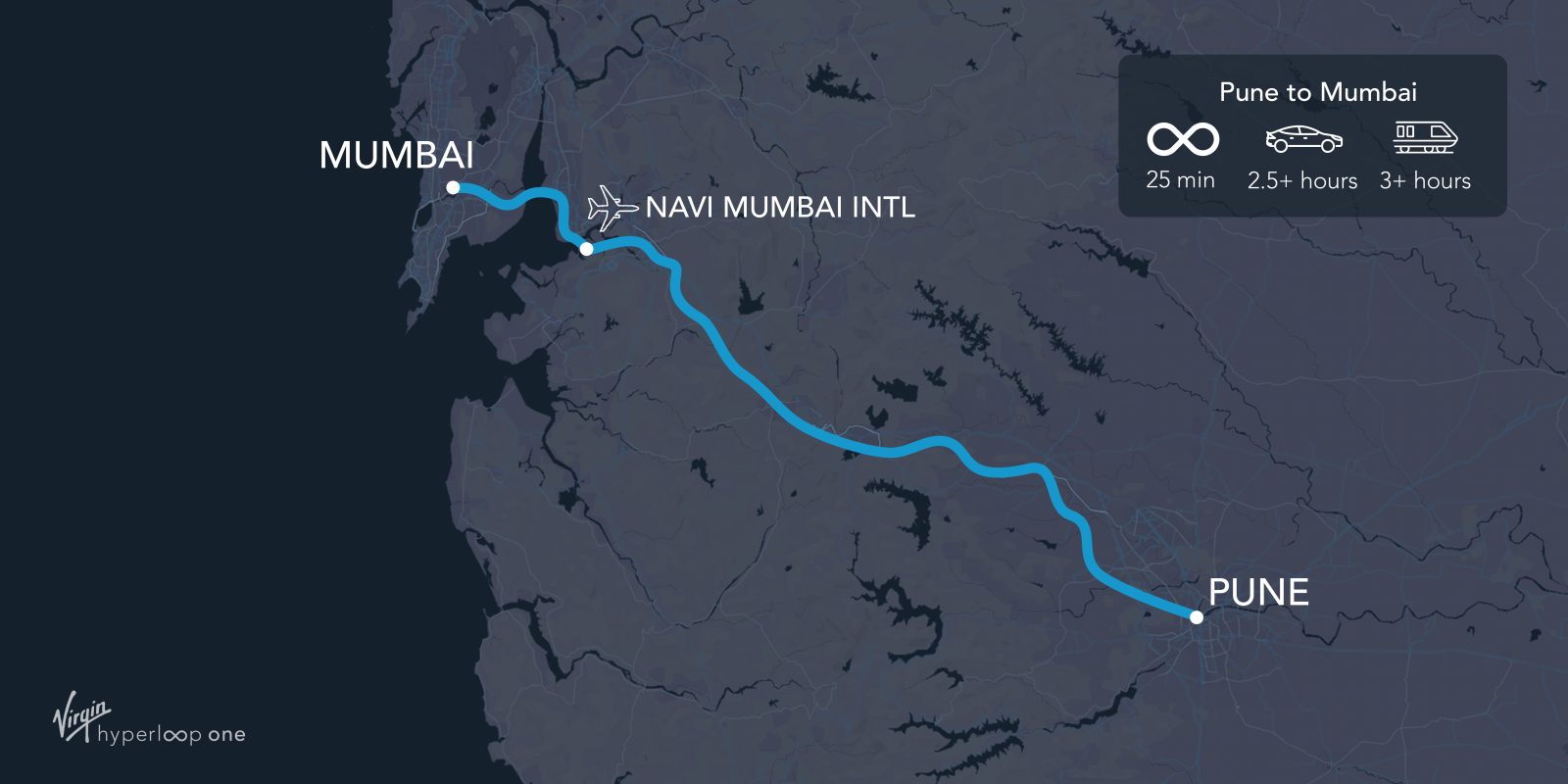 HYPERLOOP TECHNOLOGY WITHIN INDIA'S TRANSPORT ECOSYSTEM
Our progress on the Mumbai-Pune hyperloop project is indicative of a larger trend – a wave of visionary policy leadership when it comes to supporting new technologies and innovation in India's transport ecosystem. NITI Aayog's Tech Vision 2022 document, the work of the government technology think tank Technology Information, Forecasting and Assessment Council (TIFAC), and the Centres of Excellence at the Indian Institutes of Technology (IITs) have been very supportive of new technologies. In addition, the Railways Ministry 'Mission 350 Plus' plan as well as work on maglev technologies and the HSR Diamond Quadrilateral project are indicative of how the central government is embracing new rail technologies. At a state level, Maharashtra's push for a Mumbai-Pune hyperloop system is a clear endorsement for innovation at a regional level, with accompanying interest from Karnataka and Andhra Pradesh as well.
India has multiple factors that make it an ideal country for a hyperloop system: infrastructure needs due to rising demand, superior engineering talent, low-cost manufacturing base, and strong political support and favourable regulatory environment. These factors ensure that the hyperloop, when built and tested commercially, will be affordable (for riders), scalable and low-cost (to build and operate).
The hyperloop system's appeal for India comes from its complementarity with existing transport technologies. Hyperloop systems, with its point-to-point transport proposition, can be built to inter-connect with existing High-Speed Rail (HSR) or Metro projects. There is a conscious effort to build such adjacencies into the design of the first inter-city hyperloop system in India, and this is reflected in the location of the proposed stations and the track alignment. Come 2025, a student from Ahmedabad should be able to reach Pune, by taking the Ahmedabad-Mumbai Bullet Train and then switch over to the 25-minute hyperloop ride to Pune, just as present metro commuters switch from one metro line to another in a city. Such a multi-modal transport system between India's bustling cities will have significant productivity implications for the country. This system becomes yet more powerful when replicated across different regional clusters in other parts of India, or linked seamlessly with the Modi Government's HSR Diamond Quadrilateral Project – and one can see the emergence of Indian mega-economic regions in a manner that rivals China's super-city clusters plan.
Once proven for commercial viability, the hyperloop system can be scaled to different city-pairs in India. Earlier estimates of five viable routes between different Indian cities had evaluated a 55 minutes commute for a Delhi-Jaipur-Indore-Mumbai system, 50 minutes for a Mumbai-Bangalore-Chennai commute, 41 minutes for a Bangalore-Thiruvananthapuram commute and 20 minutes for a Bangalore-Chennai commute on the hyperloop system. View this from a multi-modal transport perspective and the real benefits of a system like this come through – hyperloop technology adoption is a real enabler for India to leap-frog to a higher trajectory of growth, akin to the role that mobile phones have played earlier in terms of technology adoption as well as economic growth.
PUBLIC-PRIVATE HYPERLOOP PARTNERSHIP
India's ability to solve its transport infrastructure challenges by partnering with the private sector to embrace new technologies like hyperloop, as is being with the Mumbai-Pune project, is unique and worth emulating. Such dynamism will prove rewarding for India, and Maharashtra in particular, as supporting supplier ecosystems for hyperloop systems take shape in the region, creating local jobs, tax and export revenue potential.
As India leads the world in the global deployment of the hyperloop technology, it is well positioned to unlock significant opportunities for growth and careers on the forefront of the next transport revolution.